HORSEBACK RIDING – WHICH TOUR IS BEST?
Horseback riding in Zion National Park is one of the best ways to experience stunning views and above slotted canyons. Here is a list of some of the best Zion horseback riding tours you'll want to consider. 
This ride is the perfect way to end your day. The tour starts at 7 p.m., giving you the perfect amount of time to ride out and see some amazing views of Zion National Park, basking in the light of the sunset. It takes about an hour and a half, so it's a quick ride to go out and see the sights. This tour is priced right and is a steal for an incredible way to watch the light go down on the surrounding mountains and formations. Make sure to bring a jacket since it tends to cool off quickly once the sun starts setting. 
Join this peaceful ride that lends a view of the many trees and meadows in the area. You can view wildlife in their natural habitat such as mule deer, foxes, squirrels, and wild turkeys. During this ride, you will get a staggering view of Checkerboard Mesa within Zion National Park, as well as the distant Kaibab Plateau which is the northern edge of Grand Canyon National Park. It only takes an hour, so it's pretty accessible to people at all levels of experience. The tour is offered throughout the day.
Start out this ride going up and back on switchbacks until you get to the incredible Pine Knoll viewpoint. This two hour ride offers amazing views of the Checkerboard Mesa, Zion National Park, the Glendale Bench, and the Kaibab Plateau. It also offers a calming ride through grassy fields with pine, juniper, and other trees lining the trail. Arriving back at the resort is a great experience because it gives you a lovely perspective of the resort. This ride lets you view much of what this area has to offer, all on horseback.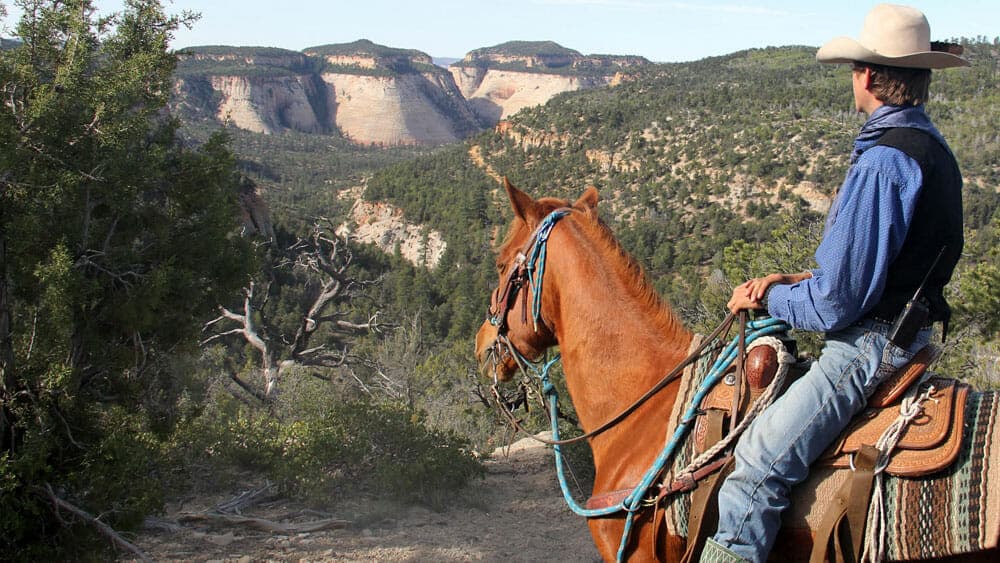 Whichever tour you select, you won't be disappointed. Riding horseback through this terrain on the edge of Utah's Zion National Park provides a different perspective and experience than hiking or walking. Plan your trip and find the horseback ride that works best for you, and make sure to guarantee your spot by reserving a space in advance.